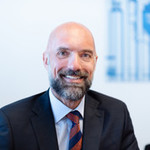 Franco Moro
Chief Executive Officer - Chief Operating Officer
Graduating in Chemical Engineering from the University of Padua in 1987, and holding an MBA from SDA Bocconi in Milan, Franco has gained significant experience managing global manufacturing companies for over 30 years. He has worked as plant director of FIS—Fabbrica Italiana Sintetici and then of Cambrex Profarmaco Milano, before taking over as Chief Executive Officer of FIS—Fabbrica Italiana Sintetici from 2010 to 2018. Franco joined Stevanato Group in 2018 as Chief Operating Officer and was appointed to Chief Executive Officer in February 2021. He has been a member of the board of directors of Stevanato Group since February 2021.
Mauro Stocchi
Chief Business Officer
Graduated from Ca' Foscari University of Venice in 1991 in Economics, he holds an MBA from SDA Bocconi in Milan. Mauro commenced his career in De Longhi S.p.A. followed by a 10-year period within the Siemens Group. He joined Stevanato Group in 2004 and in 2008, Mauro was promoted to Chief Financial officer while retaining responsibility over business development activities. From 2010, Mauro held the position of Corporate General Manager with direct responsibility for all corporate functions. He is currently Chief Business Officer of the Group with responsibilities of strategic business development, sales, product management, marketing and communications, and drug delivery systems business.
Marco Dal Lago
Chief Financial Officer
Graduated from Ca' Foscari University of Venice in 1997 in Business Administration. Mr. Dal Lago joined Stevanato Group in January 2020 as Chief Financial Officer. Marco brings 25 years of experience in the fields of controlling, finance, administration, compliance, and risk management, working in multinational industrial companies and coordinating multi-year planning and, mergers & acquisitions processes. In his current role, Marco oversees all administration, financial and controlling responsibilities for Stevanato Group.
Paolo Patri
Chief Technology Officer
Graduated from the University of Milan in 1995 in Chemistry. Mr. Patri has over 20 years of experience in the pharmaceutical industry, both in production and in the development of pharmaceuticals and biotech, gaining a significant track record of achieving global regulatory approvals for both large, small molecules and combination medicinal product through standard and accelerated programs. Paolo held various management positions at, Cambrex Profarmaco, Janseen-Cilag a Johnson & Johnson company, Chiesi Farmaceutici and Dompé Farmaceutici. In Chiesi Farmaceutici he held from 2008 to 2017 the role of Global Head of CMC (Chemistry, Manufacturing and Controls). In Dompé Farmaceutici, he held the role of Chief Manufacturing Officer. Paolo joined Stevanato Group in October 2018 and has since assumed the role of Chief Technology Officer, overseeing the management of the research and development department, as well as investments, projects and other activities supporting the Group vision.